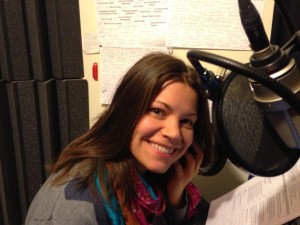 I often get asked how does one break into the voiceover business, and generally this is the information I offer up.
I would recommend reading any and everything you can get your hands on.  There are a number of blogs and books available that are extremely helpful.
Paul Strikwerda has a wonderful blog that covers a variety of voiceover related topics, as well as Peter O'Connell who has a blog and also created THE VOICEOVER ENTRANCE EXAM which is a great resource to see what you're really getting yourself into.
Before you even start thinking about purchasing any equipment or auditioning for anything you will need to get some training.  Personally, I spent 4 years in school in NYC receiving a BFA in Acting, and also worked for 7 years in NYC as a stage and film actor before transitioning into Voiceover.
As a voice actor, not only are you required to have acting talent, but also breath control, microphone technique, and audio editing skills.  In the past, you could just walk into a studio do your audition or voice a spot, but in today's market you are actor, director, engineer, and marketer.
For some quality training I would check out your local market for some acting classes, and start to get to know the voiceover talent in your area.  They will have good suggestions on who's good to work with for training.  You can also take classes online with Edge Studio, who has program that spans a few months, and takes you through all the performance, audio, and business side and also will provide you with a demo at the end of it.  They are a reputable company, but do your own research and find what's best for you.  In general however, be wary of anyone who guarantees that can get you earning money fast, especially if you have no background in the performing arts.
Once you have some training under your belt and have found someone to do your demo, you'll need to think about your own home studio.  Home studios are the standard now, and for anyone who thinks they can be a voice actor with out one these days, is kidding themselves.  It's an investment in a high quality microphone, mixer, preamp, computer, DAW (which is recording software), and your recording space which will need to be acoustically treated.
For home studio information check out Sound Advice by Dan Friedman, an audio engineer and voiceover actor, as well as Harlan Hogan's Voice Actor's Guide to Home Recording.  There is also a weekly show streamed online called East West Audio Body Shop aka EWABS hosted by George Whittam and Dan Lenard which is another great source for your audio questions.
Now that you have training, a demo, and a home studio now you are ready to start auditioning and booking jobs. You can reach out to companies that are doing the kind of work you're interested it, like production house, eLearning companies, and audiobook houses. Another source of jobs comes from the controversial Pay to Play sites or P2P.  They are websites that you pay a yearly membership fee to join and audition on.  When you are first starting out they can be a good source to start building your client base.  The most popular are Voice123.com and Voices.com.  You can also direct market yourself to companies and begin the process of submitting your demo to agents and casting directors.  However, I would recommend that you wait until you've started booking work before you pursue representation because first impressions are incredibly important and you need to be taken seriously.
There is a huge online community available to you on Facebook, LinkedIn, Twitter and places like the VO-BB, but also know that these are working professionals and in order to be taken seriously in this industry you need to do most of the leg work yourself.  If you have a question, research it.  Try and find the answer yourself.  Chances are your question has been asked before, and a simple google search will yield results.  If and only if you've done all that and still not found an answer then I would suggest posting your question on one of the many forums out there.  You will be taken more seriously and respected by other voice talent because you showed initiative and didn't waste their time with something you could have easily figured out yourself.
This is a very general summary of what goes into becoming a voice over actor, but if it's something you are really interested in and you have the drive to work really hard, then you'll also find it's an incredibly rewarding career.  Know up front that you'll be putting a lot of money into training, demos, equipment, and marketing efforts.  That it takes a long time before you'll be able to do it full time, and that if you are interested in pursuing animation that it may require you to relocate to a major market.
If you have any other questions, please feel free to contact me and I'll provide any guidance I can.
Resources:
Blogs
Books
Community
Conferences
Studio
Training