hello VOyagers!
Isn't it super exciting to get things in the physical mail?!
Well, I was so thrilled to open the mailbox this morning and discover that my medal from the Hogwarts Running Club – Department of Mysteries 10K was there waiting for me.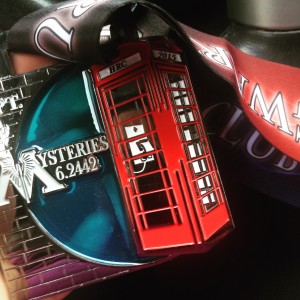 This was the first race I've done since running my half-marathon back in 2013. Part of that was saving money, part was falling out of training, and part was losing the motivation to push myself. As we all know sometimes it's difficult to pull ourselves out of that funk.
For me, it took finding a race I…A. wanted to run & B. thought I COULD run.
Since I've never done a 10k before, and I've also not RUN in probably over a year this was quite a daunting undertaking.
However, I huffed and puffed my way through 3.5 weeks of training and the race.
Now, I've got myself on a proper Half-marathon training schedule, (today marks day 3), and I've made a commitment to myself to see it through.
My next race is September 1st, and it's another virtual 10k through the HRC. It's theme is Platform 9 3/4! How fun is that?
Whatever it takes right?
Question
What do you do to renew your motivation when you've lost it?
Department of Mysteries 10k Medal!