hello VOyagers!
How has your week been going? Things have been moving right along here, and it's hard to believe that August is rapidly coming to a close.
So question for you…how many of you out there are PANTRY COOKERS?
Have no idea what that is? Well, my definition is whipping up something delish from all the leftover ingredients in the fridge, pantry and freezer so I don't have to go grocery shopping.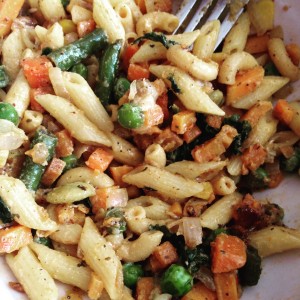 I've been doing A LOT of pantry cooking this week. Earlier, I threw together a frozen mixed veggie dish with some vegan mac and cheese then tossed some sriracha on it and voila…DELISH DISH.
However, last night I really shook things up when I made stuffed peppers.
Typically, I cook up some spanish rice, toss in a veggie or two and sauteed up some vegan sausage. Well, I've been cutting back on the gluten, didn't have any tomato sauce laying around nor my usual sausage. So instead, I made cauliflower rice, with tomato PASTE and this new vegan seitan I picked up over the weekend at Asheville's first ever VegFest (post coming soon)
I gotta say…it was pretty damn good.
---
INGREDIENTS
5 small green peppers
1 head of cauliflower
1 small onion (yellow or white)
1/2 can 8 oz can of tomato paste (or 1/2 cup sauce)
3 carrots (chopped)
Vegan sausage of choice (chopped)
Garlic powder
Italian Spices (Oregano, Thyme, Rosemary, Basil)
Salt
Pepper
1 tsp Olive oil
Pre-heat oven to 350F
Chop up the onion, while a pan with the oil warms.
Sauteed the onion, and chop up the carrots. Toss those in with the onions after about 5 minutes. Put the cauliflower in a food processor or blender and pulse til it's "rice." Then add that to the pan. Sprinkle some garlic powder, spices, salt & pepper.
Open the can of tomato paste and add about half to the cooking veggies. Add a little water to the pan to keep everything from clumping.
Get busy chopping the vegan sausage. Once that's chopped add that as well, and sprinkle some more garlic powder and spices.
Cut the tops of the peppers, and remove the seeds. If you'd like chop those tops and add them to the veggie mix.
By this time everything should be cooked enough, so scoop out the veggie mix into the peppers. BE GENEROUS!!!
If you have any leftovers throw it in a casserole dish and put in the oven with everything else.
Once you've stuffed the peppers, place them in a casserole dish and cover with foil. Cook for 30 minutes. Remove the foil and cook around 7-10 minutes.
ENJOY!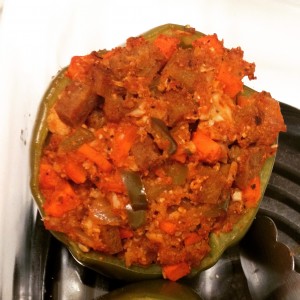 Pantry cooking and Stuffed Peppers