When I tell people I'm a voiceover talent, usually a confused look crosses their face.
So I always follow up with a quick explanation of what exactly it is that I do.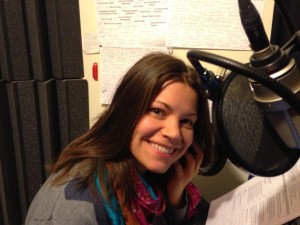 Basically, I'm the voice you hear on radio & tv commercials, audiobooks, on-hold phone systems, those web explainer videos for your favorite app, the character in that new video game you're playing, and so forth.  If it needs a voice, that what I'm hear for.  (See what I did there?)
People are always curious as to how I got into voice acting.
Well, since I always dreamed of being an actor I decided to head to New York City after highschool to get an acting degree. After receiving my BFA in Acting from Pace University in Downtown Manhattan I started my journey of trying to make it as a theatre and film actor in the city that never sleeps.  After a few years of working two jobs and going on auditions I landed my a voiceover gig for the Chicago Tribune.  I'd never been in a recording studio before and just fell in love with the idea of being able to act behind the microphone.  Luckily, with the way technology has progressed over the last 10 years I was able to pack up my apartment and head down south to try something new.
So that's brings us up to today.  I'm a full-time voiceover actor with a home studio nestled in the Blue Ridge Mountains is the super vegan friendly city of Asheville, NC.
Interested in pursuing a career as a voiceover talent?
Here's my handy-dandy guide to Breaking into Voiceover
Want to hire me for your project?
Please check out my voiceover website Lauren McCullough | The Voice Next Door
Curious about my work?
Check out some of the projects I've lent my voice to.