hello VOyagers!
Well, as I mentioned last week, I have started training for a half marathon. This marks week two, and we are still the "easy" part…though it isn't easy for me yet. It's been so long since I've run regularly that despite the fact that I'm only doing 15 minute interval runs 2x per week, and 1 mile on the weekend it's been tough. However, I can feel that I'm getting stronger.
Normally, I try to get my runs done in the morning however since I'm still in flux with moving my schedule is all over the place so I haven't gotten to my run today.
Anyone else like to run at a certain time of day?
On top of training, I'm also paying attention to my water intake which has definitely been on the decline the last few years. When I was in college I used to carry around a 1.5 liter bottle every day and could easily go through 2 of them in 24 hours. Now a days, I end up drinking TEA all day. Hot, cold unsweet black tea. Not exactly the best thing…or the worst.
Also when I was in college I kept a planner. Yep, a paper and pen planner. Since graduation I've tried numerous times to convert to electronic calendars, planners, meal trackers, etc. but none of them stick. Last fall I reverted back to the thing that always worked in the past and low and behold I've been CRAZY productive this year.
So in addition to my normal work planning, I've added a section for my health planning.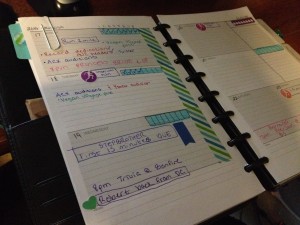 QUESTIONS
Do you use a planner?
Any brand your favorite?
What are your must have accessories?
Week Two of Training & Planner fun