Excuses…man they are the worst. Am I right?
Well this post isn't about my latest round of excuses, or about my most popular excuses.  Nor am I going to say I have found the magic solution or make a promise I know will be impossible to keep.
Instead what I'm going to do think outside the box, and ask myself what can I do today that would make me happy and also get me moving.
On Monday that meant pulling the elliptical in from the porch & re-watching THE FUGITIVE for the first time since it came out in the 90's. FYI — still an amazing movie. Once I got moving I thought "HEY! What if I do some arm curls while on the machine?" So I did. Then after 45 minutes I thought well the movie isn't over…why don't I do some fun exercise ball ab moves for awhile. So I did.
Yesterday, I spent 30 minutes grooving to some tunes and another 15 minutes stretching.
Today, I'm gonna go for a walk around the Biltmore (at the hottest part of the day mind you) and get super sweaty. Then I think tomorrow I'll do the opposite and enjoy nice, cool morning stroll.
So this battle against excuses is going to be combated with breaking the same old routine and remember to have fun.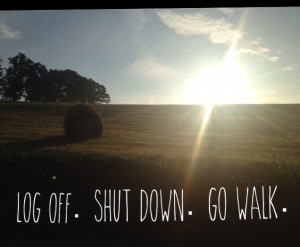 Questions
What do you do to switch things up & get yourself back on track?
Are you walker, a runner, both or neither?